Growing up as a kid in the mid 1960's, life revolved around Saturday morning cartoons and comic books. While the latter had tons of heroes of every description, the list of the former, appearing weekly on my TV (my
color
TV!), was shorter. This was some overlap of course, but there were a few that were unique.
One such example, appearing on Saturday morning cartoons from Sept 9, 1967 until Sept. 6, 1969 was BIRDMAN. From the same creative genius' at Hanna-Barbera (and created by Alex Toth), this was something special, in the same league as Space Ghost (check out our Funko POP custom) and Jonny Quest.
Here we had a combination superhero and spy (at least he took orders from a spy, a sort of Nick Fury look-alike) who was solar powered, and had a trained bird for a best friend and sidekick. Yup, it had something for everybody.
Years later. Adult Swim on Cartoon Network, brought Birdman back, sort of, as a lawyer of all things (named Harvey?), although still wearing his trademarked hood. For purists like me, that never happened. (The less said about it, the better, lol).
In any case, here's the classic Birdman in reference pics: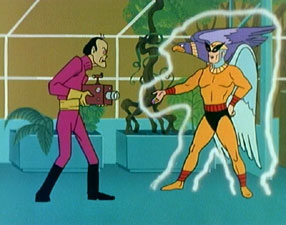 and here's my custom Funko POP of Birdman
Can't you just hear him shouting the classic "B-I-R-D-M-A-N......."
As far as the custom recipe is concerned for this Funko POP!
The head is a Wolverine POP, repainted
The body is from a DC Hawkman repainted
That's all there is to it ... just let him absorb some solar energy and watch him fly around the room (what, yours doesn't do that??)