SPECIAL NOTE: Lex Luthor is one of the Legion of Doom. Check our Database as we make EACH of these Supervillains, featured on the classic Superfriends TV show
Whether depicted in a simple black suit, striped prison togs or (as here) in his classic 80's "Superfriends" cartoon style purple and grey outfit (definitely a fashion sense crime if there ever was one), Lex Luthor remains the primal arch enemy for Superman, the Man of Steel.
Though he's been written as both a businessman and a scientist over the years, one thing has been consistent about Lex, he's "bad to the bone". An additional angle added to his persona in recent years is that of the jealous geek, a self-styled suspicious defender of his fellow earthlings, against the super powered Kryptonian,, who Lex believes could go rogue at any moment (he even has "death ray" eyes! In any event, you just can't have the Superman mythos without our villainous bald antagonist.
Unfortunately, Funko has not made a Lex Luthor yet (as of Jan 2013), so it's CUSTOM time!
As usual, here's are some a references pic of Lex is his sleek classic criminal "Superfriends" togs: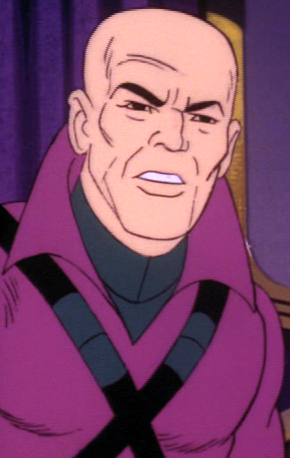 And here is my "popified" Custom Funko Pop version of Lex Luthor:
Note the classic (can you say "cliche" ?) arched eyebrow denoting an evil villain!
The custom recipe how to create this version of Lex is
very
easy.
1. The head is from a Martian Manhunter Pop.
2. The body is also from a Manhunter Pop but with the cape removed.
So this one's just an easy repaint. You even have the criss-cross stripes already there for you to repaint.
Creating an evil genius was never so easy ... or so much fun.